Build and Buy Online - Buy direct from manufacturer
Custom Fitting - Best player in the world says start with clubs fit to you
GigaGolf eFit System - Quick, easy, accurate and affordable
Set Configuration - Selecting the right clubs for your game
Components - The importance of shaft and grip selection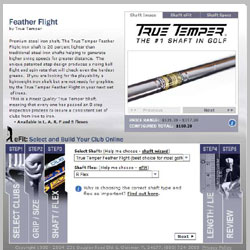 GigaGolf eFit System
The easiest way to lower your golf scores is to fit your golf clubs to your swing speed and physical body measurements. The GigaGolf eFit system is designed to guide you quickly and easily through the 5 step fitting process. Since 1996, thousands of golfers have realized the benefits of using the GigaGolf eFit system to accurately fit their clubs.

Its FREE
GigaGolf's 5-step eFit system has everything you need to correctly fit your new clubs online. The eFit system has been designed to provide information when you need it. For example, when a shaft selection is made, the eFit system will make a flex recommendation for the specific shaft you have chosen based on your swingspeed or 5 iron distance. Select a clubhead and try the eFit system. Take a tour of the 5-step process, even the most seasoned professional is guaranteed to learn something and you are certain to be entertained by the elegant Flash based programming.

Our Guarantee Eliminates Risk
Afraid you'll get it wrong? Impossible the GigaGolf 30 Day Play Guarantee allows adjustments to your customizations free of charge within the first 30 days after you receive your new clubs. For example, a customer orders a set with a plus 1" length adjustment. After practicing and playing a round or two with his new clubs, he feels that they are too long and feel heavy (adding 1 inch in length will increase swing-weight by 5 points making the clubs feel relatively heavy). GigaGolf reduces the club length by 1/2" and our customer loves his new clubs enough to tell his friends. We are all happy. (You can also elect to have your purchase refunded to your credit card, even after the clubs have been used.


GigaGolf, Inc.
231 Douglas Road
Building #6
Oldsmar, FL 34677
(800) 724-3085